ZMI ™ Displacement Measuring Interferometers
Featured Product from Zygo Corporation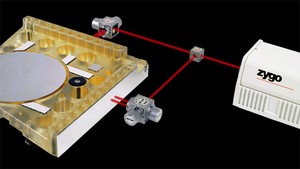 ZYGO is the technology and application support leader in heterodyne displacement interferometry, offering complete solutions and support for your OEM metrology application. ZYGO's technologies and OEM products have been field proven over many years of use in leading-edge production facilities.
Typical Applications
• Lithography tools: optical lithography steppers and scanners, e-beam & laser mask writers
• Metrology tools: Mask and wafer inspection and measurement tools, CD-SEMs
• Calibration: Measurement and calibration of high resolution or high frequency mechanical motions
Key Features:
• Heterodyne displacement interferometry.
• Highly stable, easy to align, and insensitive to signal amplitude changes.
• Extremely robust for OEM applications.
• A single laser source can support multiple axes.
• High signal to noise phase measurements enable high precision and eliminate false counts, even at zero slew rates.
Configure the System that's Exacty Right for You
ZYGO offers a variety of...
• Laser Heads
• Interferometers & Optics
• Measurement Electronics
• Cables & Feedthroughs
This modular approach allows you to configure a system that best suits your needs by selecting the most appropriate components. As always, we're here to help; contact your local ZYGO sales representative to assist with the selections.