Direct Drive Brushless DC e-TORQ Motors
Product Announcement from Bodine Electric Company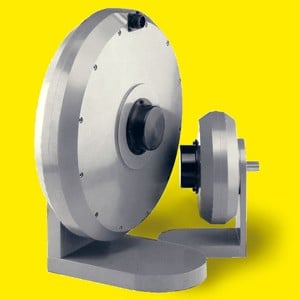 Bodine Electric Company manufactures three standard sizes of Direct Drive, Brushless DC e-TORQ motors (7-, 9-, and 14-inch diameters). The motors employ a unique electromagnetic design to improve efficiency, minimize size, and maximize torque. The e-TORQ motors are ideal for OEM's where high torque, compact design and enclosed construction are necessary.
The ironless stator of e-TORQ motors eliminates iron saturation common to most other types of motors, and allows the motor to run smoothly at extremely low speeds. The lack of iron saturation provides maximum torque linearity, meaning that torque is extremely consistent from very low to very high speeds without any cogging or velocity fluctuations (ISV). The high torque capability eliminates the need for costly gearboxes and removes the risk of lubricant leaks.
The e-TORQ motors are available in widths of less than four inches, with diameters ranging from 7 to 14 inches and larger. The 14-inch diameter (356 mm) e-TORQ motors deliver more than 200 lb-in. (22 Nm) at speeds of up to 2,000 rpm. Special order models are available for OEM quantities -- allowing for a wide variety of shaft, through hole, or mounting arrangements.
For more information, visit us at: www.bodine-electric.com/etorq
Photo: Standard 7-inch and 14-inch e-TORQ motors, face mount style. Shown here with a mounting bracket for display purposes only.
---