Gearmotors and Motors for Low-Voltage Applications
Product Announcement from Bodine Electric Company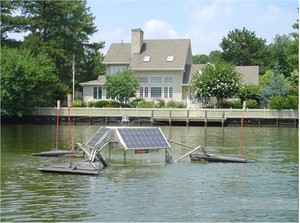 Driven by rising energy costs and public concerns over environmental degradation, interest in low-voltage industrial equipment has increased. Original equipment manufacturers (OEMs) have responded by designing lower-voltage products that can either run independently of the electrical grid or utilize solar power as an energy source. Bodine is able to provide standard (24 VDC) and custom (12, 24, 36, 48 VDC, etc..), low voltage windings for many of these applications. Bodine engineers have worked with OEMs to optimize gearmotor, motor and control efficiency in low-voltage products as diverse as solar-powered water circulators and power generating facilities.
Solar Powered Water Circulating Device — Water circulators (photo) are used to improve water quality in wastewater treatment facilities, fresh water lakes, and reservoirs. Since 1998 over 1,000 solar powered circulators have been installed nationwide driven by Bodine's eTORQ™ Direct Drive Brushless DC Servo Motor. The unique design of the e-TORQ motor allows for up to 95% motor efficiency, permitting the circulators to run 24/7 directly from the solar cells and battery capacity, eliminating the need to run power cables through the water. The e-TORQ motor requires almost no maintenance, and it achieves high output torque over a broad speed range without a gearbox, removing the possibility of lubricant leaking into the water.
Solar Power Generator — Low-voltage Bodine motors are also being used at a solar power generation test site. Rather than using photovoltaic cells, this design focuses sunlight to create heat that is used to generate electricity. Two Bodine permanent magnet DC, 24V Incodermotors™ (PDF) are used on each unit to position the azimuth and elevation axes of the collection mirrors. The Incodermotor design features a built-in 4.5-12V magnetic encoder that is completely shielded from the elements. The 24V motors can be driven from emergency battery power if the units lose connection to the grid.
12 VDC Gearmotors, Motors, and Controls — Bodine Electric Company also offers 12 volt permanent magnet DC (PMDC) gearmotors, motors and speed controls for continuous duty OEM applications. These compact and cost-efficient products provide the predictable performance required for battery powered, remote-location, medical device, or solar powered applications.
Bodine Engineering — Our team of mechanical and electrical engineers understands how mission-critical power management in low-voltage applications is. We regularly work with OEM customers to optimize a gearmotor, motor and control package to provide the most effective solution at competitive prices. Bodine engineers understand not only how to integrate motors and gearheads into compact and durable solutions, Bodine Electric also designs and develops all AC, DC and BLDC motors in-house. By addressing electrical and mechanical design challenges in tandem, Bodine Electric can deliver optimized performance and true system solutions. The experts in fractional horsepower gearmotors have the engineering team and know-how to solve application challenges not just today, but also for the solutions of tomorrow.
About Bodine — Founded in 1905, Bodine Electric Company, a family-owned business, offers over 1000 standard products, and thousands of custom designed fractional horsepower (less than 1 HP) electric motors, gearmotors and motion controls (AC induction, Brushless DC, and Permanent Magnet DC). Products are available via an extensive distributor network or sold directly to OEMs. Known for their reliability, long life and competitive prices, Bodine products are found in many demanding industrial and commercial applications such as medical devices, labeling equipment, printing presses, photocopier, scientific and laboratory equipment, and factory automation. Bodine is headquartered in Chicago, Illinois with manufacturing and assembly operations in Peosta, Iowa, U.S.A. For more information, please visit: www.bodine-electric.com
---