New, Larger INTEGRAmotors from Bodine Electric
Product Announcement from Bodine Electric Company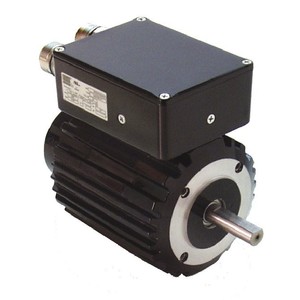 Bodine Electric Company added several new 34B-frame, 24V brushless DC gearmotors and motors to its standard INTEGRAmotor product line. With these larger 34B/FV INTEGRAmotor models, OEMs have now access to five new integral gearhead options, with a maximum torque of up to 350 lb-in (40 Nm). The new type 34B/FV INTEGRAmotor products combine a PWM speed control, a brushless DC motor, an optical encoder, and a gearhead into one innovative drive solution. INTEGRAmotors and gearmotors are ideal for low-voltage and zero-maintenance application requirements, found in medical equipment, packaging machines, conveyor systems, printing and photo finishing machinery and many other factory automation applications.
With a motor rating of 1/4 hp (187 watts) and up to 100 oz-in. (0.706 Nm) continuous torque, the new 34B/FV is twice as powerful as the smaller 22B/FV models available from Bodine Electric. Like the smaller type-22B INTEGRAmotors, the new larger frame size can be operated from a regulated 24VDC power supply, and are available with a digital (PWM-pulse width modulation) interface. These new models feature an on-board PWM control that accepts inputs from an external motion controller or Programmable Logic Controller (PLC). The controls also feature amplifier enable, direction input and dynamic braking. The new 34B/FV INTEGRAmotors are supplied with an enclosed 1024 PPR, 2 channel, optical encoder. The 34B/FV can be supplied with Bodine Electric's parallel shaft, right angle and hollow shaft integral gearheads, with output speeds ranging from 0.3-500 RPM, and rated torque of up to 350 lb-in (40 Nm).
The INTEGRAmotors are designed to be a lower cost alternative for applications that typically require more costly stepper or high-end servo systems. They are also an excellent choice for replacing traditional brush-type DC motors in applications that operate continuously, eliminating costly downtime for brush maintenance. They are an ideal choice for clean rooms and food manufacturing facilities where contamination with carbon dust from brush-type DC motors is not acceptable. Special order versions can be supplied with food-grade gearhead lubricants. These new 34B/FV INTEGRAmotors and gearmotors are rated IP-44.
For more information, please visit our web site at www.bodine-electric.com
Photo: Bodine type 34B/FV INTEGRAmotor with PWM control, and enclosed optical encoder (encoder and power cables not shown). Company contact: Edmund Glueck, Manager - Marketing and Product Development.
---