New Offset Parallel Shaft Type
Product Announcement from Bodine Electric Company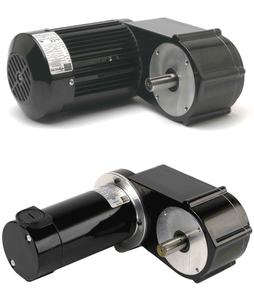 OFFSET PARALLEL SHAFT GEARMOTORS PROVIDE HIGH TORQUE IN A COMPACT PACKAGE
Bodine Electric Company now offers a range of "U-shaped" gearmotors for high-torque applications. The new, type -HG gearhead provides flexible mounting and high torque in a small package. Typical applications include conveyor systems, food processing equipment, ice makers, and factory automation.
The type -HG gearmotors are available with Bodine's 42R AC induction (fixed- or variable-speed), 33A permanent magnet DC, and 34B brushless DC motors. This new gearmotor design utilizes three-stages of steel gearing, providing gear ratios from 6:1 to 108:1. The gearmotor produces up to 1000 lb-in. continuous torque and outputs from 3 to 93 RPM.
For increased radial load capacity and long life, the HG gearheads are unvented, lubricated for life, with needle bearings for the intermediate gear stages, and large ball bearings on the output shaft. They also feature selectively hardened helical and spur gearing for quietness and high output-to-size ratio.
These gearmotors are also offered with a variety of built-to-order shaft options, including single, double or hollow shaft configurations. Hollow shaft units can be connected directly to the driven load, which saves space and eliminates unnecessary parts that are bulky and present alignment issues. Type HG, integral gearmotors can be face-mounted from either side for maximum flexibility in mounting configurations.
For complete product specifications, and downloadable 2D or 3D CAD drawings, or to obtain the new S-16 Standard Product Catalog, please visit us at: www.bodine-electric.com - A great resource for all your small motor, gearmotor and control needs!
---