Upgraded and Expanded CG Gearmotor Selection
Product Announcement from Bodine Electric Company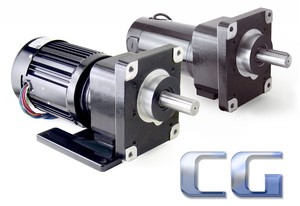 Bodine Electric Company has upgraded and expanded its Type-CG, variable speed, AC inverter-duty and permanent magnet DC gearmotors. The CG gearmotors are designed for applications such as heavy-duty conveyor systems, medical equipment, food processing and factory automation, where long life and high load capacity are critical.
The CG gearhead is paired with Bodine's most powerful variable speed electric motors, the 48R6, AC inverter-duty, and 42A7 permanent magnet DC motors. Our integral gearmotor design allows the CG to deliver up to 1,000 lb-in. (113 Nm) of torque, which is nearly twice the torque of any previous Bodine product. The CG gearmotor features a solid, aluminum cast gearhousing. It can be face-mounted in virtually any position, or mounted with a rigid base. The extra heavy-duty drive shaft, bearings and seals provide reliable operation and long life. Inside the gearhead three-stage, selectively hardened gearing and high performance lubricant insure quiet operation and high output torque. New DC accessory-ready models can be fitted with encoders, other feedback devices, or brakes.
New Quick Delivery program: The type "CG" gearmotor models are the first of Bodine's product line to be available through a new Quick Delivery program. This program is designed to ship customer orders in small order quantities within two to three business days. Products will be maintained in stock, or assembled to order via a quick-turn production cell. Larger order quantities will require lead-time. Expedited delivery options are also available. We are starting this new "QD" program in December 2009, and will add the "accessory ready" CG gearmotor models in January 2010.
Download Brochure (PDF)
Explore 48R-CG AC Inverter Duty Gearmotors
Custom CG Garmotors: Bodine Electric also offers custom engineered CG gearmotor solutions. For qualifying OEMs, we can custom design special mounting and drive shaft features, special windings, or new gear ratios. We recently developed a new 48B-CG, brushless DC (electronically commutated) gearmotor with encoder feedback. This custom 48B-CG gearmotor features a low-voltage, 24 VDC winding that is powered by a 24 VDC Bodine type ABL control. For information on custom solutions from Bodine Electric Company, minimum order quantities, prices and lead times, please contact your local Bodine sales manager.
About Bodine Electric Company: Bodine Electric is a leading manufacturer of high-performance fractional horsepower gearmotors (less than 1HP / 746 Watts), motors and motor speed controls in North America. Bodine Electric offers over 1,000 standard products, and thousands of custom designed, gearmotors and motion controls (AC Fixed Speed, AC Variable Speed, Brushless DC, and Permanent Magnet DC). Bodine products are available via an extensive distributor network or sold directly to OEMs. Known for their reliability, long life and competitive prices, Bodine gearmotors are found in many demanding industrial and commercial applications. Bodine is headquartered in Chicago, Illinois with manufacturing and assembly operations in Peosta, Iowa, U.S.A. For more information, visit: www.bodine-electric.com.
Contact: Edmund Glueck, Manager – Marketing and Product Development.
---