co-ax® cartridge valves
Featured Product from co-ax valves inc.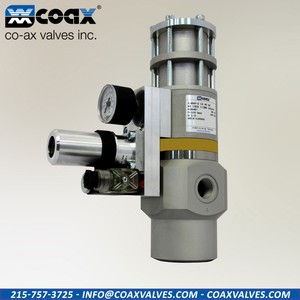 The fluid power industry has used the cartridge valve as a way to manifold multiple valves into one space saving, pipe-and-fitting saving, installation-labor-saving assembly.
Process valve users can benefit in similar fashion even when controlling abrasive, non-lubricating fluids, pastes, gels and all types of gases.
Cartridge valves are designed for simple, easy integration into machines, pumps and systems, and allow quick and easy replacement without disturbing system piping.
They also eliminate pipe and fittings, reducing potential leak points.
Since the cartridge manifolds typically utilize common inlets or discharge piping, installation labor is greatly reduced since the pipe-fitter has only one assembly to mount and pipe, instead of multiple valves.
This manifold mounting also provides space savings since multiple valves and their supply and discharge piping are eliminated in favor of a single cartridge valve manifold
Designed for high-cycle life, co-ax® cartridge valves offer machine and system designers a cost effective method of achieving the universal goals of saving space and reducing cost.