High Pressure Applications
Product Announcement from co-ax valves inc.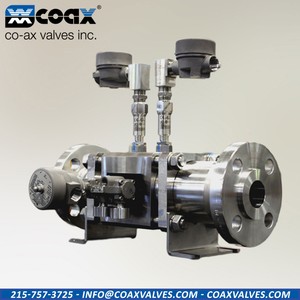 As machining speeds continue to climb, heat build-up becomes more problematical. Excessive heat not only degrades the quality and dimensional consistency of the part being machined, it also accelerates wear on the tools. This causes frequent replacements of costly tools, along with the equally expensive downtime required to change out the tools.
So if high production speeds and low production costs are to be maintained, heat must be controlled and minimized. Probably the most effective way to achieve this goal is with high pressure coolant systems, which deliver a greater volume of coolant in flows that are more consistent, accurate and dependable.
However, high pressure coolant systems, if they are to be effective, require highly specialized designs and components, particularly in the area of flow control and bypass valves. These valves are the heart of a high pressure system, and their precision and reliability will dictate the performance and dependability of the entire system.
Unfortunately, many valves that provide acceptable performance in lower pressure systems are unable to operate with precision and longevity when subjected to higher pressures. Cycle times and therefore coolant delivery, begin to fluctuate. Wear accelerates, further compounding repeatability problems, which are reflected, once again, in increased tool wear, reduced machining accuracy, and inconsistent part quality.
Therefore a true high pressure valve design is essential. And many coolant system design engineers have found that the co-ax® valve configuration is the best suited to the task. co-ax® valves were originally developed specifically for machine tool coolant systems. Today, the descendants of these original co-ax® coaxial valves are being used in machine tools worldwide - successfully handling system pressures up to 500 bar (7,500 psi) while delivering millions of precise, repeatable cycles at actuation speeds as rapid as 30 milliseconds.
The reason why co-ax® valves perform so flawless under extreme pressures is that the valves' operation is totally pressure-independent. In a co-ax® valve, media flow straight through the valve without deviation. This coaxial flow allows pressures to remain almost perfectly balanced on both sides of the valve actuator. Regardless of how high operational pressures go, differential pressures which usually negatively affect valve speed and repeatability, are nearly non-existent.
This unique design allows the co-ax® valves to cycle more quickly, with positive, leak-free shutoffs. Actuation requirements are minimized, as are operational stresses on valve that has only a single moving part. The coaxial design means there is no deviation in coolant flow path, nor are there any 'dead spots'. This eliminates contaminant build-up that could otherwise cause wear, flow and shutoff problems.
As a result, co-ax® valves can last up to ten times longer than conventional valves in high pressure coolant applications, while requiring virtually no maintenance throughout their extended life cycles.
In addition to performance, the coaxial configuration has additional benefits that simplify the valve's integration into new or existing machines. The pressure-balanced design reduces actuation requirements, and therefore actuator and valve size.
High pressure coaxial valves are also available in a wide range of configurations. For example, co-ax® offers both direct acting and externally controlled models, all of which may be specified in 2/3 and 3/2 way versions with normally-opened or normally-closed configurations. co-ax® high pressure valve are also available in lateral valve configurations. Standard orifice sizes range from 2 - 15 mm, with other sizes, configurations, seal and construction materials are available to meet highly specialized requirements. With this level of design flexibility, compact co-ax® valves can easily replace virtually any conventional valve type.
---