Crossed Roller Rail Sets by Del-Tron
Product Announcement from Del-Tron Precision, Inc.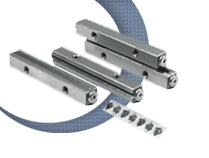 Del-Tron's crossed roller rail sets (or crossed roller bearings) are compact, precision rail sets that can support and guide high loads with high accuracy, excellent repeatability, and low friction. A complete range of profiles are offered with roller diameters ranging from 1.5mm up to 6 millimeters, providing load carrying capacities to 2800 lbs. For vertical applications or applications involving high acceleration or deceleration forces you may want to consider our Anti-Creep crossed roller rail sets. These units employ a rail and roller cage design that eliminates roller cage migration or slippage due to load orientations or acceleration forces. Our crossed roller rail sets are also available in stainless steel for applications where corrosion resistance must be considered. For your convenience solid model drawing for this entire product line are available on our website. Other industry terms include crossed roller bearings, crossed roller slides, and more generally, linear motion slides.

• Crossed roller rail sets are easily integrated into your design
• Stainless steel available
• High accuracy and load capacity
• Interchangeable with rail sets of other manufacturers
• Standard threaded and counterbored holes allow mounting access from either side
• Anti-Creep design available where load orientations and acceleration forces are a concern
Del-Tron Precision, Inc. was founded in order to serve the needs of automated equipment manufacturers for innovative, high quality and reasonably priced anti-friction linear bearings. For over 30 years, we've manufactured linear motion products we've categorized into nine distinct family groups. Industry terms for our products include: linear slides, ball slides, linear ball slides, linear bearings, crossed roller slides, cross roller bearings, positioning stages, linear positioners, XY stages, micrometer slides, roller slides, linear actuators, ball screw actuators, belt drives, belt drive systems, lead screw actuators, crossed roller bearings, linear motion slides, slide guides, and crossed roller tables, among others.
---