High Speed Belt Drive Actuators by Del-Tron
Product Announcement from Del-Tron Precision, Inc.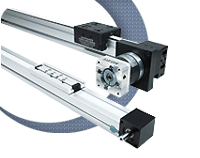 Del-Tron's belt-driven DB series actuators operate at speeds up to 5.1 meters per second (MPS) and do not require lubrication or maintenance under normal operating conditions. Del-Tron's DB series actuators are ideal for use in applications where speed is critical such as pick-and-place applications on high speed automation equipment. Another advantage of the new DB series is that they can provide travel lengths up to 6 meters while maintaining repeatability of +/- 0.025 mm and linear accuracy of +/- 0.083 mm per meter. These actuators feature a steel-reinforced polyurethane belt that helps deliver repeatable positioning by avoiding belt stretching. The positive timing belt drive provides further improvements in accuracy and speed. A proprietary extrusion design provides long travel, smooth movements, and excellent repeatability. DB series actuators are available standard to accept NEMA 17, 23, and 34 motors and can be configured to accept other sizes. Planetary gearheads are available and contribute to the performance of the actuators by providing gear geometry optimized for planetary systems using zero helix angle gears to avoid unbalanced forces caused by helical gears. Our belt drive actuators offer different types of bearings support. Steel concave rollers (DBM) riding on chrome-plated steel rails provide excellent positioning accuracy even in applications that require long travel. A plastic coated needle (DBN) bearing assembly offers the highest possible speeds. Finally, plastic bearings (DBP) running on aluminum rails provide ultimate durability in tough push-pull applications. The steel bearings are supplied with lifetime lubrication while both types of plastic bearings require no lubrication at all.

Del-Tron applications engineers can help you select the appropriate belt drive actuator and gear box for your application. Del-Tron can also provide special designs of DB series actuators for nearly any belt drive system. To request a quotation please use the form provided. Other industry terms include belt drives, belt drive actuators, belt drive systems, and more generally as linear actuators.

• High speed capability
• Travels to 6 meters
• Cost effective solutions available for high speed applications
• Wide selection of gearheads, motor mounts, limit switches and mounting hardware
• Custom designed for your application
Del-Tron Precision, Inc. was founded in order to serve the needs of automated equipment manufacturers for innovative, high quality and reasonably priced anti-friction linear bearings. For over 30 years, we've manufactured linear motion products we've categorized into nine distinct family groups. Industry terms for our products include: linear slides, ball slides, linear ball slides, linear bearings, crossed roller slides, cross roller bearings, positioning stages, linear positioners, XY stages, micrometer slides, roller slides, linear actuators, ball screw actuators, belt drives, belt drive systems, lead screw actuators, crossed roller bearings, linear motion slides, slide guides, and crossed roller tables, among others.
---