Micrometer Positioning Stages by Del-Tron
Product Announcement from Del-Tron Precision, Inc.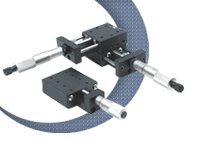 Del-Tron offers a wide range of linear positioners. These micrometer positioning stages and crossed roller positioning stages are available with travels ranging from .25" to 2.0". All of are linear positioners are available in X, XY and XYZ configurations and can carry loads ranging from 4 lbs on our miniature ball slide series all the way up to 160 lbs on our crossed roller positioning stages. All model numbers are available with inch or metric micrometers and mounting holes. Most models are available with locking micrometers and all models can be supplied with our Posi-Lock friction locking mechanism to secure the table. We also offer the SD Series (side drive mounted micrometers) designed for applications requiring the smallest footprint possible. Positioning accuracies range from 0.0005" per inch of travel straight line accuracy on our ball slide positioning stages to 0.0001" per inch of travel straight line accuracy on our crossed roller positioning stages. For your convenience solid model drawings for all of our positioning stages are available on our website and we are always ready to discuss any special needs or modifications you may require. Additional industry terms include positioning stages, linear positioners, XY stages, micrometer slides, and more generally as linear slides.

• Versatile - Smooth, accurate travel for intermittent motion applications
• Positive Locking - Side mounted lock feature prevents movement of carriage
• Accurate Measurements - Carriages are spring loaded against micrometer heads with 0.001" (0.01mm) graduations
• Adaptable - One, two or three axis models can be used in any orientation
• Easy To Use - Standard counterbored holes in base and threaded holes in carriage
• Wide Selection - Subminiature, low profile models and side drive micrometer mounts
Del-Tron Precision, Inc. was founded in order to serve the needs of automated equipment manufacturers for innovative, high quality and reasonably priced anti-friction linear bearings. For over 30 years, we've manufactured linear motion products we've categorized into nine distinct family groups. Industry terms for our products include: linear slides, ball slides, linear ball slides, linear bearings, crossed roller slides, cross roller bearings, positioning stages, linear positioners, XY stages, micrometer slides, roller slides, linear actuators, ball screw actuators, belt drives, belt drive systems, lead screw actuators, crossed roller bearings, linear motion slides, slide guides, and crossed roller tables, among others.
---