The ACi4400 Series - GreenTech EC Compact Fan
Featured Product from ebm-papst Inc.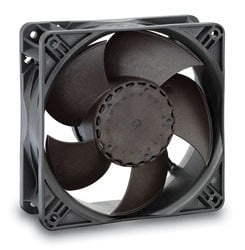 The ACi4400 series has been designed to replace conventional AC fans that use low efficiency shaded-pole motors with GreenTech EC compact fans for the ultimate combination of energy efficiency, performance, and acoustics.
Primary Advantages:
Highly energy efficient – up to 75% less energy consumption
Long service life – up to 85% longer
Available with global voltage range of 90...264 VAC, frequency independent
Constant speed over the total voltage range
Available with protection rating up to IP65
Material: fiberglass-reinforced plastic, impeller PA, housing PBT
Electronic locked rotor protection
Air exhaust over struts, direction of rotation clockwise, on rotor
Electrical connection via 2 flat plugs 2.8 x 0.5 mm, flying leads optional
Mass: 0.55 lbs
Technology: The core technology of the product is the complete integration of the transformer and drive electronics into the motor hub. The aerodynamic blade shape with added winglets contributes to improving the overall efficiency and significantly reducing the acoustic noise by up to 8dB.
The drive concept of these energy-saving compact fans is based on the very efficient and durable ebm-papst GreenTech EC motor technology. The combination of energy savings and extended service life means these fans pay for themselves in the short term and continue to pay for themselves over the long haul with every operating hour.
Perfect drop-in replacement for 115V and 230V AC voltage fans.
Target Markets and Applications
Industrial
Heating
Commercial Refrigeration
Ventilation
Approvals