Diagonal compact module
Featured Product from ebm-papst Inc.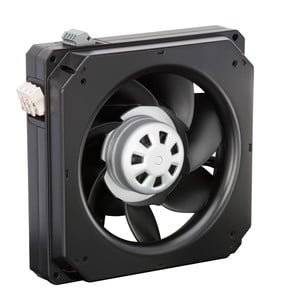 The market requirements for electronics cooling are continually increasing and demand solutions that are both intelligent and high-performing. Up until now tubeaxial fans have been widely used. These function optimally where there is little pressure loss. However, tubeaxial fans reach their limits if pressure losses rise due to higher power density or increasing filter clogging. The new diagonal compact module from ebm-papst now provides the ideal solution.

Constant cooling capacity even with increasing filter clogging.
For the same fan size, the new diagonal compact module provides higher air performance at the point of operation. Even with increasing filter clogging, the diagonal compact module attains the required air performance of 294 CFM in this Advertisement example. There is no loss of control cabinet cooling, which in turn results in a longer filter service life and less need for servicing. The version with GreenTech EC motor offers the option of regulating the diagonal compact module as required to provide the desired cooling capacity. Thanks to the speed control function, the air performance and thus the cooling capacity remain constant, even with increasing filter clogging (see illustration below). This means that dissipation of the waste heat T is maintained at a constant rate. At the same time, the diagonal compact module with an EC motor saves a significant amount of energy. And noise emissions can be reduced by up to 7 dB. Compared with the earlier market standard, the new diagonal technology with EC motors saves around 49 % energy for the same air performance.
All the advantages at a glance:
Pressure-insensitive diagonal fan: pressure-insensitive curve, longer filter service life, longer maintenance intervals
Up to 49 % lower energy consumption
Reduced power loss and hence improved cooling action and longer service life
Up to 50% better air performance in standard operation
Demand-based air flow thanks to speed control
Up to 7 dB (A) noise reduction
Shallow installation depth
Completely pre-assembled – Plug & Play
Mechanical compatibility with existing industry standard for straightforward retrofitting andexchange
Further information can be found here: Diagonal Compact Module