8MM DIAMETER HIGH PERFORMANCE ENCODER
Product Announcement from Gurley Precision Instruments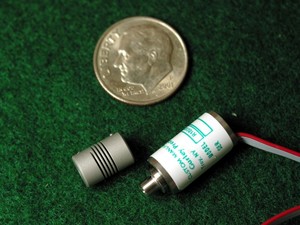 Troy, NY – Gurley Precision Instruments' high-performance A08/R108 series rotary encoder offers both incremental (to 4,096 counts) and absolute (up to 12-bits) position information in an 8mm diameter package. Available in both a shaft and blind hollow-shaft configuration, the A08 and R108 offers design engineers several unique mounting and interface options.
The A08/R108 series have an optional temperature range from –40 to 85°C and a radial/axial load of 3N. Output options include an RS-422 differential line driver for incremental applications or SSI with gray-code or natural binary where absolute feedback is required.
Gurley Precision Instruments is an ISO 9001 certified company that offers rotary and linear optical encoders and related accessories. You can see their wide selection of incremental, absolute and Virtual Absolute™ encoders at www.gurley.com, or call 800-759-1844 for free applications assistance.
---