LR Incremental Linear Encoders from Gurley
Featured Product from Gurley Precision Instruments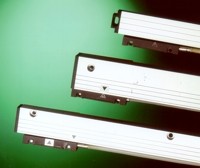 The Models LR18, LR25, and LR35 are optical incremental linear encoders designed for long life in medium to high-performance applications. The compact LR18 offers measuring lengths up to 1.2 m (48"); and the more robust LR25 and LR35 have a maximum measuring length of 3.2 m (126")*. Both models have a reliable internal ASIC to provide resolution as fine as 0.1µm after 4X quadrature decode in the user's circuitry. The output device for the quadrature square waves and index signal is an EIA/RS-422 balanced differential line driver. For users who prefer to provide their own interpolation, analog outputs are available as either 11-µAor 1-V signals.
Precision ball bearings allow the reading head to traverse the glass scale at speeds up to 2 m/s (80 in/s). The system is protected to IP53 by an aluminum extrusion and rubber sealing flaps.
The encoders are interchangeable with several popular competitive brands.