Model 7700 Virtual Absolute Rotary Kit Encoder
Product Announcement from Gurley Precision Instruments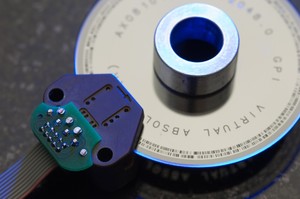 Gurley has expanded on its compact, modular encoder systems. Designed for superior performance and based on Gurley's patented Virtual Absolute technology, the model 7700 provides absolute positioning and high performance at a low price. Available with resolutions up to 22-bits (4,194,304 words/turn) and achievable accuracies in the 10's of arc seconds, the model 7700 is easy to install. After the system is initialized upon power-up (about a degree), it can yield up to 21-bit SSI resolution, allowing all of the inherent benefits of an absolute encoder at an incremental encoder price point. And with the use of its optional commutation tracks, eliminates the need for hall effect feedback for brushless motors. Operating temperature range is from -40 to 100 degrees Celsius.
Output options for the 7700 include SSI and USB. Dual axis decoding electronics are available.
Gurley Precision Instruments is an ISO-9001 certified company that offers rotary and linear optical encoders, and related accessories. You can see their wide selection of incremental, absolute and Virtual Absolute encoders by visiting their website, or call them for free application assistance.
---