Low-Cost Absolute Rotary Encoder, Model A58
Product Announcement from Gurley Precision Instruments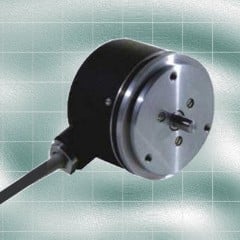 The A58 is the highest resolution compact encoder available for applications requiring precise measurements of distances and angles in a relatively small package. The low cost and high accuracy of this encoder make it an ideal solution for practically all applications which require absolute positioning. Mechanical features include a 58-mm diameter aluminum housing, a 3mm to 0.25" diameter stainless steel shaft, and precision ball bearings. Output formats include serial, parallel and multiplexed versions of Gray code or natural binary.
The A58 is the second member of our new family of true absolute rotary encoders. Coming soon is our Model A19 – the smallest model available.
Gurley Precision Instruments is an ISO-9001 certified company that offers rotary and linear optical encoders, and related accessories. You can see their wide selection of incremental, absolute and Virtual Absolute™ encoders at www.gpi-encoders.com, or call 800-759-1844 for free application assistance.
---