Cable Protection: top cleanroom classification
Featured Product from igus® inc.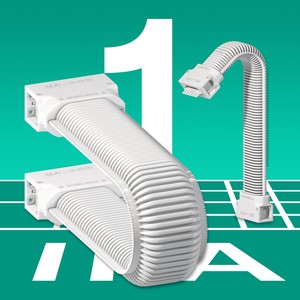 Modular corrugated tube for cable protection gains top cleanroom classification
The "e-skin" easy-open energy supply system has achieved the IPA ISO Class 1 certification for cleanroom use.
In many industries, such as medical and pharmaceutical technology and production, contamination and air purity is absolutely essential. Any contamination can have a damaging impact on products and processes, and incur a range of costs and loss of profits. The e-skin corrugated tube from igus is now available for use to provide a safe, high-strength and flexible energy supply system without generating airborne particles which can contaminate the environment.
Enclosed structures and abrasion resistance for clean production
The design and material of the e-skin were the major factors in the acquisition of the IPS ISO Class 1 certification, through the Fraunhofer Institute. The corrugated tube is comprised of tribologically optimized, abrasion resistant plastic "shells," which can easily be joined with a zipper type mechanism to form a fully enclosed tube, which is highly resistant to dust, water, and other materials. This simultaneously provides the cleanroom-approved operation and quick installation and long-term protection of cables and hoses.
The easy-to-assemble e-skin is lightweight, with a stiff design and defined direction of motion, making it ideal for small spaces and short unsupported distances. Interior separation is also available for increased protection of cables and hoses.
About igus®
igus® develops industry-leading Energy Chain® cable carriers, Chainflex® Motion Cables, DryLin® linear bearings and linear guides, iglide® plastic bushings, and igubal® spherical bearings. These seemingly unrelated products are linked together through a belief in making functionally advanced, yet affordable plastic components and assemblies. With plastic bearing experience since 1964, cable carrier experience since 1971 and Motion Cables since 1989, igus provides the right solution from over 100,000 products available from stock. No minimum order required. For more information, contact igus at 1-800-521-2747 or visit www.igus.com.