Secure data transfer in moving applications
Featured Product from igus® inc.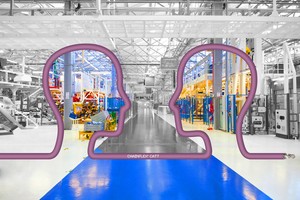 Secure data transfer in moving applications for Industry 4.0
igus sets the standard with chainflex fiber optic and CAT7 continuous-flex cables
For "smart" factories to function at their best, real-time communication between machines at all levels is of paramount importance. To ensure that all stations can properly share data, Ethernet cables will be used in increasing numbers throughout factories and equipment. To suit the needs for Ethernet cables in moving applications, igus now offers more than 30 types, all exclusively designed to suit a wide range of dynamic industrial applications and mechanical requirements.
CAT7 Ethernet cables increase the data transfer rates of CAT5e and CAT6 cables by as much as ten-fold to increase the communication inside Industry 4.0 facilities. igus is the first manufacturer to supply CAT7 cables for dynamic applications, and offers CAT7 cables in three jacket material options for rolling flex applications, as well as a torsional CAT7 option for robotic applications.
Communication without interference – flexible fiber optic cables
Immunity to electrical interference, along with substantially higher rates of data transmission offer benefits to Industry 4.0 factories and equipment manufacturers. Like all chainflex cables, chainflex fiber optic options are designed and tested to stand up to 36 months of continuous-flex performance guaranteed. To suit all other mechanical requirements, a range of fiber optic chainflex cables are available, including those for harsh environments or torsional movements. To learn more about chainflex Ethernet or fiber optic cables, please visit www.igus.com/chainflex.
About igus®
igus® develops industry-leading Energy Chain® cable carriers, Chainflex® Motion Cables, DryLin® linear bearings and linear guides, iglide® plastic bushings, and igubal® spherical bearings. These seemingly unrelated products are linked together through a belief in making functionally advanced, yet affordable plastic components and assemblies. With plastic bearing experience since 1964, cable carrier experience since 1971 and Motion Cables since 1989, igus provides the right solution from over 100,000 products available from stock. No minimum order required. For more information, contact igus at 1-800-521-2747 or visit www.igus.com.