Self-lubricating, maintenance free ball bearings
Featured Product from igus® inc.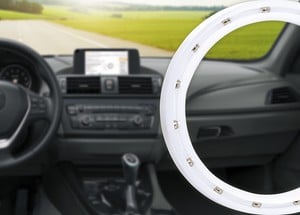 Self-lubricating, maintenance free ball bearings for confined spaces now available from igus
New xiros thin ring bearings offer smooth motion and feel in control systems
For control systems on automobiles and other applications where space and weight restrictions can be problematic, new thin xiros ball bearings from igus are available in accordance with DIN 625 for rotary controls.
The new xiros 67 and 68 thin ring bearings are suitable for temperatures ranging from -40º - 176º F, and are available in two materials (xirodur B180 and S180) with inner diameters ranging from 4-30mm, with custom dimensions and integrated solutions available upon request. Customers can select from glass, 316 stainless steel, or high-strength plastic balls depending on application requirements.
xiros 67 and 68 bearings have been extensively tested to last for over 100 million cycles (within permissible loads) and proven an excellent, maintenance-free solution for all types of control systems and beyond. "As with all xiros bearings, the frictional torque of the new thin ring bearings is very low, explained Nicole Lang, product manager for plastic bearings at igus Inc. "This allows for excellent haptics when used on rotary controls, since no breakaways can be felt in the movement of the bearings."
To learn more about xiros, or to utilize the product configuration tool, visit www.igus.com/xiros.
About igus®
igus® develops industry-leading energy chain® cable carriers, chainflex® continuous-flex cables, drylin® linear bearings and linear guides, iglide® plastic bushings, and igubal® spherical bearings. These seemingly unrelated products are linked together through a belief in making functionally advanced, yet affordable plastic components and assemblies. With plastic bearing experience since 1964, cable carrier experience since 1971 and continuous-flex cables since 1989, igus provides the right solution from over 100,000 products available from stock. No minimum order required. For more information, contact igus at 1-800-521-2747 or visit www.igus.com.