ZF14 Energy Chain for Modern Furniture Design
Featured Product from igus® inc.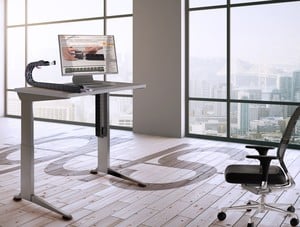 New ZF14 Energy Chain from igus offers secure cable guidance for modern furniture design
The motion plastics specialist has introduced the new cable carrier system designed exclusively for use in the furniture industry
Modern office furniture, such as standing desks and adjustable worktops, is increasingly geared toward the individual needs of the user. These necessary adjustments, coupled with the growing trend of implementing electronics into office furniture, requires cable management that not only bundles and routes cables safely, but also fits aesthetically into furniture's design.
To suit these types of applications, igus has introduced the ZF14 Energy Chain cable carrier, developed specifically for use in furniture design. The cable carrier is mounted either with brackets, which can either be screwed or bonded directly onto furniture. The carrier is then clipped in easily and securely, and allows for simply cable installation, and smooth inner contours offer cable-friendly guidance for years of operation. The ZF14 Energy Chain is available in a range of colors to suit all furniture designs.
About igus®
igus® develops industry-leading Energy Chain® cable carriers, Chainflex® Motion Cables, DryLin® linear bearings and linear guides, iglide® plastic bushings, and igubal® spherical bearings. These seemingly unrelated products are linked together through a belief in making functionally advanced, yet affordable plastic components and assemblies. With plastic bearing experience since 1964, cable carrier experience since 1971 and Motion Cables since 1989, igus provides the right solution from over 100,000 products available from stock. No minimum order required. For more information, contact igus at 1-800-521-2747 or visit www.igus.com.