Eco-friendly Electronics Thermal Test Systems
Featured Product from inTEST Thermal Solutions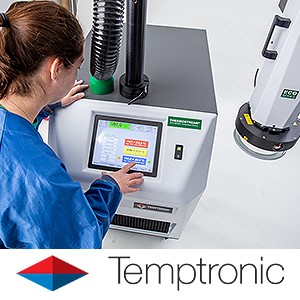 Eco-friendly Electronics Temperature Test Systems
Consumes less energy with high performance and quiet operation

The ECO Series is an environmentally friendly Temptronic® ThermoStream® temperature forcing system that uses less energy with very low audible noise. The temperature test system operates on a low, 20-amp circuit and incorporates the company's proprietary WhisperStreamTM technology providing quiet, smooth-sounding operation at 56 dBA. The ECO-710 and ECO-810 are designed with the laboratory environment in mind where audible noise and heat dissipation are of concern.
Precise temperatures with fast transitions from -80 to 225°C
Effective testing and conditioning of electronic components, boards, and modules
Available for 50 and 60Hz operation
No need for Liquid Nitrogen (LN2) or Liquid Carbon Dioxide (LCO2)
Remote communications and set up and touch screen operation
ECO systems complement the performance of the industry standard ATS ThermoStream® product line.
Thermonics Corp. belongs to a family of temperature-related companies under inTEST Thermal Solutions, the Thermal Products Segment of inTEST Corp. Born out of experience developed in the 1970's with designing and integrating chiller systems for the semiconductor industry, the company expanded its reach for meeting thermal management challenges to other industries. Today, these activities include energy, fiber optic, consumer product manufacturing, semiconductor and industrial markets.