Modular Component Building Kit
Product Announcement from item America, LLC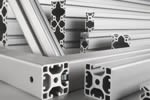 The modular components that make up the MB Building Kit System are combined in many ways to construct machinery, jigs and complete production lines. The product groups in the catalog group together the various components under their key functions.
Basic Elements
The Basic Elements group in the item MB Building Kit System consists of aluminum profiles, fasteners and the corresponding covers. These are the foundations on which the MB Building Kit System is built.
The Accessories for aluminum profiles consist of caps and cover profiles that are used to close off side and facing surfaces and drilled holes.
Fasteners
The components in the fasteners product family guarantee non-positive aluminum profile joints with the highest possible rigidity.
Click-Fastening Set 8
Automatic-Fastening Set
Universal-Fastening Set
Standard-Fastening Set
Other right-angled connections
Floor Elements
The Floor Elements group includes adjustable feet for jigs, machines and enclosures, castors for equipment, boxes and other mobile applications, special-purpose components for attaching any constructions to the floor or wall and accessories for attaching knuckle feet and castors to numerous applications.
The key feature to take into account when selecting floor elements is the anticipated dynamic forces. In addition, many floor elements can be used to compensate for irregularities in floor height and gradient.
You can find out all about Floor Elements in the online catalog
Fastening Elements
The Fastening Elements group consists of screws and T-slot nuts for attaching any components to the aluminum profile groove and a number of system components for attaching panels to profile constructions. These might be a rigid fasteners with Clamp Profiles or Hangers or movable panel fasteners for swinging, sliding or lifting doors, lids, profile frames and roller shutters
---