TPS – the Stairway/Platform System from item
Product Announcement from item America, LLC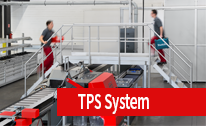 Whether one large platform, an all-round assembly platform or a simple maintenance platform, the Stairway/Platform System can be used to build working areas at any height. Because TPS is compatible with the item MB Building Kit System, users can make the most of the entire range of accessories, including enclosures and guards, doors, profiles, floor elements, etc. TPS makes stairways and platforms integral components of machine bases.
Safety is the number one priority at item. TPS features a sophisticated and versatile system of stanchions, hand-rails, foot-rails and knee-rails. All these elements can be configured to suit the specific requirements of any working environment.
Detailed information on our new Stairway/Platform System can be found in the PDF catalogue.
You can order a hard copy of the New Products catalogue here.
New products from the new Stairway/Platform System in the online catalogue.
---