2-wire Dewpoint Transmitter Works Over Wide Range
Featured Product from The Kahn Companies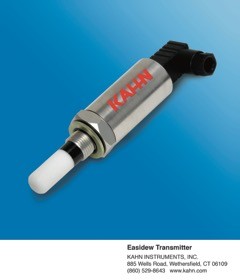 Kahn Instruments offers a low-cost transmitter that performs continuous measurement of the moisture content of compressed air or process gas. The Kahn Easidew Transmitter operates over a -148° F to +68° F (-100° C to +20° C) dewpoint range and a vacuum to 6,500 psig pressure range.
The transmitter produces a linear 4 to 20 mA output signal with an operating flow rate of 2 to 10 scfh. Flow rate is not critical to measurement accuracy, although response speed will be improved by operating at a higher sample flow. Should a fault occur, the transmitter's embedded microprocessor provides intelligent information on the failure mode. Sensor fault, under-range and over-range conditions are all signaled by predetermined output levels.
Kahn's ceramic moisture sensor works with advanced digital measurement circuitry to produce a fully calibrated and interchangeable dewpoint transmitter. All calibration data is stored within the transmitter memory so that calibration exchange or service can be performed within seconds, even by untrained personnel. The transmitter can be connected in a two-wire, loop-powered configuration while maintaining complete backward compatibility with previous three-wire installations.
The Easidew transmitter's calibration is traceable to the National Institute of Standards and Technology at 13 points over the -148° F to +68° F (-100° C to +20° C) dewpoint range, with an accuracy of +/-3.6° F dew point. The transmitter provides fast response.
The transmitter features a NEMA 4/IP 66-rated enclosure and weighs just 0.33 pounds.