Chilled Mirror Sensor Faster Response in Testing
Featured Product from The Kahn Companies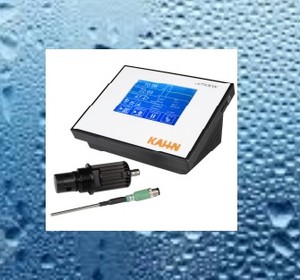 The Optidew hygrometer measures dewpoint, temperature and relative humididy and is ideal in industrial and lab applications. Any situation where precision and continuous measurement of your process is needed.
Supreme Flexibility and Sensor Options
The Optidew uses a new design of chilled mirror sensor, which provides a faster response speed coupled with the accuracy and reliability of the fundamental chilled mirror technique. For example, measuring in climatic chambers, the Optidew is able to directly track changes in temperature and humidity without experiencing time-consuming loss of control like traditional chilled mirror sensors.
The Optidew features a broad range of measurement units (more than 15 in total) including °F, °C, relative humidity, and wet bulb temperature for HVAC applications. The optional pressure sensor provides helpful information to determine whether changes in dewpoint result from changes in moisture content or pressure. Changes in pressure will result in real time changes in dewpoint and PPMv measurement.
Access in depth information about Optidew's measurement accuracy and reliability