Easidew Plus Portable Hygrometer
Featured Product from The Kahn Companies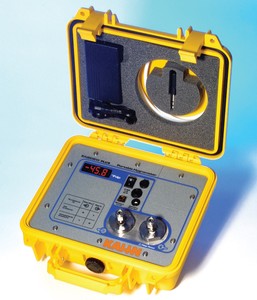 Kahn Instruments, Wethersfield, CT, a leading manufacturer of advanced moisture-measurement instrumentation is proud to announce the new Easidew Plus Portable Hygrometer. This easy to use instrument is especially useful for monitoring humidity in medical gas and plastic dryer applications. The Easidew Plus Portable is a faster responding, lower priced, easy to use portable instrument for measurement of dewpoint in compressed air and other gases over the dewpoint measurement range of -58°F to +68°F (-50°C to +20°C). It is the latest addition to the Kahn Instruments portable hygrometer family and complements the HygroPort Portable Hygrometer and HygroPort IS Portable Hygrometer. New and improved features include:
Rapid spot check measurements to -58°F dewpoint
T95 response to -31°F in less than 10 minutes
Line pressure or atmospheric pressure dewpoint measurement
Rugged NEMA 6 (IP68) polypropylene enclosure with carrying handle
Integral stainless steel sampling system with particulate filter and sample tubing
Rechargeable, long lasting NiMH battery pack – operates up to 16 hours between charges
The measurement accuracy of the Easidew Plus Portable is ±3.6°F and the instrument can measure dewpoint at pressures up to 4350 PSIG. The Easidew Plus Portable can be used in many moisture measurement applications, including compressed air monitoring, industrial gas manufacturing, instrument air verification, plastics drying, and metal heat treating.
For further information, contact:
Kahn Instruments, Inc.
885 Wells Road
Wethersfield, CT 06109
Phone: (860) 529-8643
Fax: (860) 529-1895
E-mail: hygros@kahn.com
Web: www.kahn.com
Contact: Robert T. Bailey, Product Manager