New Optisure Remote and Optisure RS Hygrometers
Product Announcement from The Kahn Companies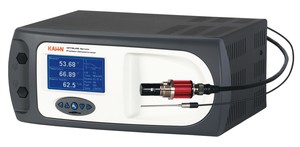 The Optisure Remote Hygrometer includes an external dewpoint sensor that is cable connected to the electronics controller and has a dewpoint measurement range of -40°F to +194°F. The Optisure RS includes an internal sensor and is available with dewpoint measurement ranges of -112°F to +68°F or -130°F to +68°F.
The Optisure Remote and Optisure RS Optical Hygrometers are variants of the field-proven Optisure Hygrometer, a chilled mirror hygrometer with an internal sensor capable of measuring dewpoint from -76°F to +104°F. Like the original Optisure Hygrometer, the Optisure Remote and Optisure RS include the following key features:
Fundamental, accurate and drift-free measurement
Industry best dewpoint accuracy of ±0.18°F
High resolution, back-lit LCD display
Data logging to USB or SD card
NIST calibration traceability
Frost assurance system
Easy mirror access
The Optisure Remote and Optisure RS Hygrometers are precision moisture-measuring instruments that can be used for critical process measurement and control applications or as laboratory reference standards for calibration of other devices. Both instruments feature accuracy of ±0.18°F and an 85-265 VAC, 47-63 Hz universal power supply. An innovative frost assurance system eliminates any ambiguity in determining ice versus super-cooled water formation on the mirror, resulting in improved measurement capability, faster response time and more confidence in measurements.
For further information, contact:
The Kahn Companies
885 Wells Road
Wethersfield, CT 06109
Phone: (860) 529-8643
Fax: (860) 529-1895
E-mail: hygros@kahn.com
Web: www.kahn.com
Contact: Robert T. Bailey, Product Manager
---