Remove Contaminants & Moisture Efficiently
Featured Product from The Kahn Companies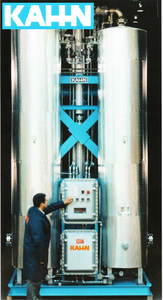 The need for clean, pure, moisture-free process iqu ds and solvents s critical for numerous applicat ons today. Moisture and contam nation are typ cally found n all industrial grade fluids, renderlng them less than des rable for h gh purity chemical and manufacturing processes.
Applicat ons such as semiconductor and optical manufactur ng demand extremely pure solvents with low moisture content. In addition, the rapidly rising cost of solvent disposal as hazardous waste makes reprocess ng econom ca ly advantageous. Kahn LPC-series liquid dehydrators offer state-of-the-art liquid dehydration and purif cation capabilities for a wide range of process liquids and solvents, including:
Acetone
Benzene
Ethanol lsopropyl alcohol
Liquefied gases
Liquid hydrocarbons
MEK
Methanol
Methyl acetate
Olefin
Propyl alcohol
Sulfur hexafluoride
THF
Toluene
Vinyl acetate
Xylene
Flow ranges up to 28 GPM and & custom design capabilities beyond that.
Learn more via the links on this page