SERIES 545 Dynamometer Control System
Product Announcement from The Kahn Companies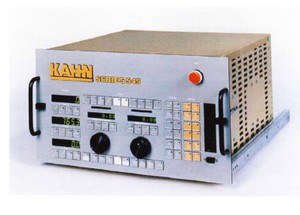 STANDARD FEATURES
Backed by 50 years of experience in aerospace engine testing, the Kahn Series 545 dynamometer controller meets the requirements of the most demanding engine test operaiions by offering the following:
Microprocessor-based controller provides fast and precise control action. Control loop time: 12 msec.
Four selectable control modes (openloop position control, semFautomatic and fully automatic closedloop speed, torque and power law control) provide the tools needed for modern engine testing.
Bumpless transfer feature provides smooth and safe transfer between all operating modes.
Multiple user programmable PID settings, stored in the controller, provide accurate control for operation at various control modes and with multiple engine or dynamometer configurations.
Operator interface with keyboard and display features interactive data entry for easy and efficienl controller setup and calibration.
Continuous display of setpoint and feedback signals permits on-the-spot troubleshooting.
Built-in watchdog timer feature provides continuous monitoring of microprocessor functions.
Multiple level programmable alarm and shutdown functions protect engine and dynamometer and interface with test cell safety interlock system.
Analog output signals of torque and speed are continuously available for data acquisition purposes.
Fast-response electro-hydraulic control valves assure rapid transient response and stable steady-state control.
OPTIONAL FEATURES
Man-Machine Interface (MMl) software permits setup, calibration, data logging, alarm management,graphical data presentation, test report generation, and control from the host comouter via a serial communicalions interface.
Modem access permits setup, calibration, troubleshooting and data logging from remote locations.
Multiple sequence control capability (including nonlinear load curves) permits automatic execution of user programmable engine test profiles.
---