New High frequency dynamometer Type 9236A
Featured Product from Kistler Group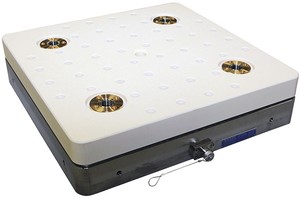 Kistler is introducing its new piezoelectric dynamometer (9236A), specifically designed to measure micro-vibrations in satellite testing. Featuring a ceramic top plate instead of a steel plate, this new dynamometer offers exceptionally high natural frequency. The benefit: users can now measure micro-vibrations up to 40% higher frequencies than ever before – the 9236A can even capture the most minimal dynamic changes in small forces at high frequencies. The launch of the 9236A marks a major step forwards in improving terrestrial observation.
We are used to seeing high-precision images whenever we sign in to Google Maps. But the quality of those images depends on eliminating or reducing micro-vibrations that would otherwise cause blurring. Micro-vibrations are extremely small accelerations of very low intensity. Piezoelectric force sensors and dynamometers – with their very high natural frequencies – have proven to be ideal for measuring micro-vibrations and tracking down their causes.
Facing new challenges in micro-vibration measurement
Images of the earth captured by satellites have to meet ever-increasing standards of precision, so cameras with higher resolution are required. But enhanced resolution also makes cameras more vulnerable to micro-vibrations. Two approaches to solving this problem have emerged: first, dynamometers with higher natural frequencies are used so that high-frequency micro-vibrations can be isolated more easily. And second, larger dynamometers are deployed to measure complete subsystems and entire small satellites. Piezoelectric dynamometers are the solution of choice for measuring micro-vibrations because they can handle static preloads and measure dynamic forces and moments with high resolution in six axes. The dynamometer's top plate is usually made of steel – and the larger the dynamometer, the heavier the top plate will be. However, increased mass also means reduced natural frequency – and this effect cannot be compensated by selecting sensors that are more rigid. With the materials that are currently in use, therefore, dynamometers have clearly reached the limits of their potential natural frequency.
Boosting the potential of piezoelectric dynamometers
Kistler has now responded to this challenge by developing a new dynamometer with a ceramic top plate instead of a steel plate. After overcoming the difficulties presented by such a brittle material as ceramic, the developers have perfected a new design that offers outstanding benefits: improved rigidity, lower weight and a natural frequency of 2.6 kHz (40% higher than the conventional steel-top version). The new ceramic-top dynamometer's size remains unchanged at 260 x 260 mm and thanks to this unique combination of features, it can measure micro-vibrations across an unprecedented measuring range from -500N to 500N. Thanks to this unique combination of features, the new ceramic-top dynamometer can measure micro-vibrations across an unprecedented measuring range. An added benefit: the dynamometer's dimensions can be increased to handle complete systems or small satellites, so Kistler offers customers a choice of two different sizes.