2 Axis Load Cell and Reaction Torque, Mz, Fz
Featured Product from Kistler Group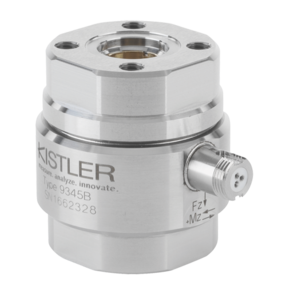 Properties:
Fz up to ±10 kN / ±2.24 klbf
Mz up to ±25 Nm / ±18 ftlb
Dimensions (D / H) 39 / 42 mm
Connector V3 neg.
For compression and tensile force
Features:
High rigidity and high natural frequency
Flexible adaption with mounting threads in double flanges
Centering seats for coaxial mounting and optimum introduction of torque
Center hole for shaft passage
Pressure and shear sensitive quartz disks are integrated under high preload between a hollow preload screw and a nut designed as the sensor case. Because of the extremely high rigidity of the sensor elements, the components Fz and Mz are measured practically without change of stroke or angle. The force and torque-proportional charge signal is picked up by electrodes and fed via a shielded cable to the charge amplifier. The latter converts the charge signals into proportional output voltages, which can be recorded and evaluated. The sensor is rust-resistant and splash-water-protected. Together with the connecting cable Type 1698AD2, the sensor achieves the degree of protection IP65.