Tool monitoring extends service lifetimes
Featured Product from Kistler Group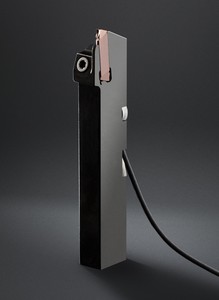 The Kistler Group has collaborated closely with Paul Horn GmbH to develop the world's only solution for real-time monitoring of tools used in micro-turning processes. The Piezo Tool System consists of a piezo force sensor and analytical software. It measures the cutting force and tool load while the machine is in operation. Data obtained from the system supplies information about the life expectancy of the tool or the cutting inserts or both. PTS identifies defective cutting materials or tool breakages immediately – so scrap is reduced to a minimum.
Applications in the micro-machining range
This new solution is ideal for use in micro-turning processes. Because the deviations in this range are minimal, little can be gained from alternative measurement methods such as monitoring the drive power of the main spindle motor. Likewise, measurement of structure-borne sound cannot be used because it does not deliver constant results with small workpieces. Visual observation must also be ruled out due to the use of cooling lubricants and the high rotation speeds during the machining process.
Boosting efficiency
Tool monitoring with PTS involves continuous recording of the cutting forces. This data is then evaluated to give customers a trend analysis of the cutting tool's life expectancy. Thanks to PTS, tool lifetimes can be extended and production efficiency is boosted. The fact that machines no longer have to be permanently monitored is another benefit because it makes partially unmanned production possible.
"Our tests have shown that in most cases, it's only the critical tool in a manufacturing process that needs to be equipped with PTS," according to Gunnar Keitzel, Head of Cutting Force. "This results in vastly increased tool lifetimes – but that's not all. Personnel can also be deployed more efficiently. One single employee will have an overview of all the processes, so he or she can supervise several machines at once."
The new solution is compatible with standard turning tool holders by Horn. PTS does not require any intervention in the CNC control, so use of the system does not depend any particular machine. Replacement of the sensors is fast and easy. Thanks to all these features, the Piezo Tool System delivers dual benefits: lower manufacturing costs and increased production capacity.