Groundwater Monitoring Pressure Transducer
Product Announcement from Setra Systems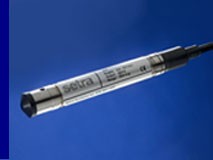 Applications
Groundwater Monitoring
Sewer Flow Monitoring
Stormwater Studies
Stream Flow Monitoring
Infiltration/Inflow Studies
Pump Tests
Irrigation
Flood Warning
Setra System's Model 595 digitally compensated immersible pressure transducer has been specifically designed to meet the rigors of long term immersibility while providing the ultimate in level sensing technology. The 595 has built in specific gravity compensation so it gives a true level reading even when the media is subject to temperature changes over the ranges -5° to+45°C.
Manufactured with 318 stainless steel wetted parts, which provide excellent corrosion resistance, the 595 can be adjusted via the cable by means of a PC or a hand-held interface which reduces the installation time and removes the need to withdraw the unit from the media for calibration.
The SDI -12 communicating version offers minimal current draw for battery powered applications. Alternatively a high accuracy 4-20mA output can be configured for use with non-communication data recorders. A custom designed hermetic header guarantees that water cannot enter the transducer even on the longest cable run. The sensor housing itself is impervious to the effects of water, guaranteeing long service life even in areas of high humidity which can cause condensation.
---