High Accuracy Low-Differential Pressure Transducer
Product Announcement from Setra Systems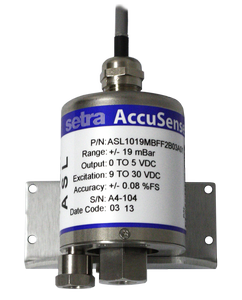 Setra Systems Introduces New High Accuracy, Low-Differential Pressure Transducer for Test & Measurement Applications
March 19, 2013, Boxborough, Massachusetts, USA – Setra Systems (www.setra.com), a leading global designer and manufacturer of pressure transducers for industrial and HVAC/R applications, has introduced the AccuSenseTM Model ASL, a high performance, low-range industrial pressure transducer for the accurate measurement of air or other clean gases. The patented variable capacitive pressure sensor has been industry tested and preferred in applications that demand reliability, repeatability and accuracy. The Model ASL is designed to support the accuracy and performance needs of applications such as leak detection systems, test stands, wind tunnels, laboratories, and research & development.
The Setra Systems AccuSenseTM Model ASL virtually eliminates overpressure concerns by the sensor's rugged construction and factory conditioning which enables up to 800x FS proof pressure (depending on pressure range) in both directions. This overpressure protection reduces the need to replace or recalibrate if the transducer is subjected to high line pressure in either the positive or negative direction. This feature is particularly beneficial for high line pressure applications such as leak detection or leak testing.
The Model ASL offers exceptional accuracy at <±0.07% full scale over low differential pressure ranges of 0-2.5" W.C. to 0-1 PSID. These low pressure ranges, scaled by assessing the maximum pressure to be measured, allow for tighter accuracy over the measurement range. The Model ASL can be configured for both unidirectional and bidirectional ranges, which allows customers to consolidate their low differential pressure transducer needs into a single, high accuracy sensor model.
The Model ASL's thermal error is <±0.25% FS, remarkably low over the compensated temperature range. The accurate outputs over this temperature range reduce the need to thermally isolate the transducer from the application. With a diameter of only two inches and an unmatched thermal error, the Model ASL provides design engineers the flexibility to incorporate this pressure transducer in systems where space is at a premium and temperature ranges fluctuate.
The AccuSenseTM Model ASL is available in a variety of configurations including output choices in mA or voltage, electrical terminations in either a three foot cable or 6-Pin male bayonet connector, accuracy of <±0.07% FS RSS or <±0.15% of Reading, and a standard or high overpressure option.
The Model ASL also features excellent long term stability of <0.15% FS/year which reduces the need for frequent calibration, resulting in decreased labor costs. An advantage of being in the AccuSenseTM product family is that the Model ASL's zero and span settings may be accurately set through the use of the SecureCalTM accessory. The SecureCalTM makes for secure and stable zero and span adjustments in the field.
For more information on the AccuSenseTM Model ASL or to request a product sample, contact the company toll-free (in the U.S.) at 1-800-257-3872 or at +1- 978-263-1400, e-mail at sales@setra.com, or visit www.setra.com.


About Setra Systems
Setra Systems, Inc. is a leading global designer and manufacturer of high accuracy electronic instruments that measure pressure, current, humidity/temperature, acceleration and weight. Setra Systems products used in industrial, test & measurement, HVAC/R, semiconductor, energy, medical, pharmaceutical, and meteorological applications where accuracy, affordability and performance are required.
---