Low-Cost, OEM High-Pressure Transducer Series
Product Announcement from Setra Systems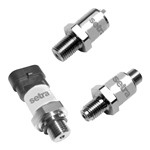 Setra Systems, Inc. has introduced the Model 3100/3200 series, a family of compact, low-cost, high-pressure transducers, designed to support the rigorous performance demands of high-volume OEM applications, and particularly within space constrained environments.
Available in standard (Model 3100) and heavy duty (Model 3200) versions, design of the 3100/3200 series incorporates the use of thin-film strain gauge sensing technology in a Wheatstone bridge configuration. Strain gauge molecular layers are sputtered onto a corrosion-resistant 17-4 PH stainless steel diaphragm. Circuit etching further provides excellent resistor definition and uniformity. This unique configuration allows for the use of simple, highly accurate and compact strain gauges to be deposited directly onto the back of the pressure sensing diaphragm. It also ensures long-term measurement stability and transducer performance with no oil fill requirements, eliminating risks of thermal instability or leakage.
The Model 3100/3200 series is available in standard duty ranges from 50 to 32,000 PSI (4 to 2200 BAR) with up to 3x overpressure protection. The Model 3200 heavy duty version offers a thicker diaphragm and optional restrictor or snubber, making it operational in environments where extreme positive or negative pressure spikes may be of concern. Both versions offer 0.25% full-scale measurement accuracy, with long-term stability of better than ±0.1% FS/Yr, over the full operating temperature range of -40°F to +221°F (-40°C to +105°C).
The series is available with choice of mA, voltage or ratiometric output. Voltage output versions are available with dual temperature and pressure outputs for both series models. This choice of multiple outputs, as well as various options for electrical and pressure con­nections, makes the units suitable for most applications without modification. Its small footprint diameter, measuring less than one inch (25 millimeters), allows for ease of installation within space constrained environments. Units are reverse-wire protected. They are also UL listed, meet CE and EMC standards, and are fully RoHS compliant.
With its highly compact footprint, exceptional accuracy, and low cost, the series is ideal for larger volume, low-cost OEM applications, including medical devices and diagnostic equipment, hydraulic and pneumatic systems, industrial compressors, variable speed pumps, refrigeration systems, industrial pumps and general industrial pressure monitoring applications.
More product information is available online: Model 3100 Series Industrial OEM Pressure Transducers.
---