BACnet Capable Room Pressure Monitor
Product Announcement from Setra Systems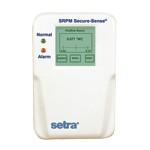 The SRPM Secure-Sense® Rroom Pressure Monitor measures the positive or negative pressure in protected environments and airborne infection isolation rooms per CDC guidelines. The SRPM monitor combines Setra's proven and patented, very low pressure sensor technology with the latest in electronics, measuring and displaying highly accurate pressure readings to 0.001 inches of water column resolution.
A large graphic RGB backlit touch-screen display allows fingertip access to menus that guide the user through room setup, application, security and calibration. The SRPM features a green LED to indicate normal conditions, and a red LED, audible alarm, and SPDT relay for remote annunciation, to signal unsatisfactory room pressure status. Additional features include selectable analog 0 to 5 VDC, 0 to 10 VDC and 4 to 20 mA output, relay output, output and display averaging, and door status indication.
Setra's optional Model SRAN, remote annunciator, interfaces with the SRPM to provide remote visual and audio indication of room pressure status. A Green LED indicates normal room conditions, a Red LED indicates an alarm condition, and a buzzer provides an audio alarm for indication of room pressure status. An acknowledge switch is also provided to deactivate the audio and visual alarms.
The SRPM is auto-calibration capable when used with Setra's Model 869 Expert System Low Pressure and Documenting Calibrator. The SRPM has a removal process head for connection to the 869 for in-situ calibration.
More information is available online: The Model SRPM Secure-Sense® Room Pressure Monitor Product Page
---