New Low-Cost Capacitance Diaphragm Gauge
Product Announcement from Setra Systems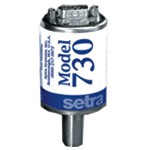 The 730's new high frequency bridge circuit design is fully RoHS compliant and yields extremely low noise, resulting in improved measurement resolution and better stability required for today's critical pressure control applications. External noise rejection is unmatched by competing models costing twice as much.
CLICK HERE TO REVIEW SPECIFICATIONS
The 730 employs a welded, all Inconel wetted parts sensor for compatibility with virtually all process chemistries. This field proven, rigid mount, single electrode sensor provides high over-pressure capability and exceptional long-term stability.

The Model 730 provides a 0 to 5 VDC or 0 to 10 VDC output that is linear with pressure and independent of gas composition. A wide dynamic measuring range is insured through Percent of Reading accuracy (+/-0.5% standard and +/- 0.25% optional) and precision temperature compensation across it's 0 to 50 degree C operating range. Temperature coefficients of +/- 0.005% FS/°C on zero and +/- 0.027% of Reading/°C an span are standard.

Offered in a variety of full scale pressure ranges from 10 Torr to 1000 Torr, the Model 730 accepts 12 to 30 VDC power and is configured with a 9 pin D-sub electrical connection with "plug and play" industry standard pin-out. A variety of vacuum pressure fittings are also available.

Setra Systems is a designer, developer, and manufacturer of high accuracy electronic instrumentation, which measures pressure, acceleration, and weight. Setra's products are used by many process and manufacturing industries, federal agencies, and research laboratories. In addition, all of Setra's pressure transducers are CE mark compliant.
---