New Ultra High-Performance Pressure Transducers
Product Announcement from Setra Systems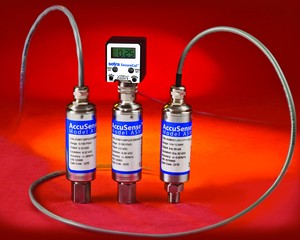 Setra Systems, Inc. (www.setra.com), a leading global designer and manufacturer of pressure measurement instrumentation for industrial, test & measurement, HVAC/R, semiconductor, energy, environmental, medical, pharmaceutical, and meteorological requirements, has announced the introduction of the new AccuSense™ Model ASM, an ultra high-performance pressure transducer, designed to provide exceptional accuracy, stability and overpressure protection within demanding test environments.
The patented AccuSense™ Model ASM (U.S. patent # 6,532,834) ensures excellent linearity and stability, with full-scale end point accuracy of ±0.05%(0.04% FS BFSL), or ±0.1% of reading. Units are available in ranges from -14.7 PSI to 1000 PSI, with choices of gauge or absolute pressures and 0 to 5 VDC, 0 to 10 VDC, or 4-20 mA outputs, as well as various pressure and electrical connector types, to suit exact user requirements. Overpressure protection of up to 2X proof pressure is standard, with the optional inclusion of a patented (US patent # 6,532,834) high overpressure protection up to 10X proof pressure. This expanded protection capability makes the Model ASM the highest performing pressure transducer of its kind on the market today.
The unique design of the Model ASM combines Setra Systems own patented, field-proven, capacitance sensing technology with the very latest in electronic circuitry design, including integral digital signal conditioning. The pressure transducers are also temperature compensated, with a total error band (TEB) of less than ±0.25% full scale, minimizing thermal errors, and making outputs virtually unaffected by wide environmental temperature shifts. A hydrophobic porous plug at the top of the unit also protects its recessed air vent from environmental contaminants. The transducers also offer high immunity to RFI from wireless devices, for optimal signal output clarity and accuracy.
Sensing elements of the Model ASM are packaged in a fully laser-welded stainless steel housing, measuring just 1.3 inches (33 millimeters) in diameter. This compact size allows for easy installation within space constrained environments, allowing the Model ASM to be used as a drop-in replacement upgrade for legacy sensors of the same footprint, particularly where improved measurement capacity, thermal compensation, tighter total error band and higher accuracy are absolute requirements.
The Model ASM is manufactured in-house at Setra Systems ISO9001 certified facility in Boxborough, Massachusetts, USA, where vertically integrated manufacturing processes allow for full product quality control, from component through to finished product. Units are CE marked and RoHS compliant.
Recommended accessories for the AccuSense™ Model ASM, sold separately, are a mating connector with strain relief (600751) or connector assembly, and the SecureCal™ digital calibration accessory. SecureCal™ is designed for direct compatibility with Setra's Model ASM, and facilitates fast, secure and simple field calibrations, while eliminating field tampering. The simple push-button operation and clear LCD/ LED readouts of the SecureCal™ enable zero-tare and snap-span adjustments.
With its exceptional accuracy, the Setra Systems AccuSense™ Model ASM is ideal for high-tech industrial, laboratory R&D and test cell requirements, including engine diagnostics, refrigeration testing, engine dynamometer testing, particle and test analysis (porosity testing equipment), or as a performance upgrade within legacy pressure sensing applications.
For more information on the AccuSense™ Model ASM or other products available from Setra Systems, Inc., or to request a product sample, contact the company toll-free (in the U.S.) at 1-800-257-3872 or at +1-978-263-1400, e-mail at sales@setra.com, or visit www.setra.com.
About Setra Systems
Setra Systems, Inc. is a designer, developer, and manufacturer of high accuracy electronic instruments that measures pressure, current, humidity/temperature, acceleration and weight, and very low-pressure and documenting calibrators. Setra Systems products are used in many process and manufacturing industries, federal agencies, and research laboratories.
---