New Variable Capacitance Vacuum Manometer
Product Announcement from Setra Systems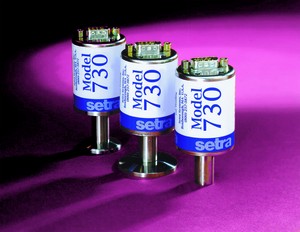 Setra Systems, Inc. (www.setra.com), a leading global designer and manufacturer of pressure measurement instrumentation for industrial, test & measurement, HVAC/R, semiconductor, energy, environmental, medical, pharmaceutical, and meteorological requirements, has announced the global market introduction of the Model 730, a compact, low-cost variable capacitance (capacitive) vacuum manometer, designed to support the critical pressure control requirements of semiconductor, food processing, petrochemical, pharmaceutical, process monitoring and industrial vacuum applications.
Available in full-scale pressure ranges from 10 torr to 1000 Torr, the Model 730 offers 0 to 5 VDC or 0 to 10 VDC output that is both linear with pressure and independent of gas composition. Its standard ±0.5% percent of reading accuracy, with option for optimization to ±0.25%, ensures a wide dynamic range, along with negligible temperature coefficients across its 0 to +50°C compensated range, making units relatively insensitive to thermal transients and environmental changes. Temperature coefficients of ±0.25% of reading/+50°C on zero; and ±1.35% of reading/+50°C on span are standard. Units operate from a standard 12 to 30 VDC power source and can be configured with a 9- or 15-pin D-sub or 5-pin terminal strip electrical connection, all with "plug-and-play" industry standard pin-outs. A variety of vacuum fittings and interconnecting cables are also available.
Design of the Setra Systems Model 730 employs a welded, all Inconel® wetted parts sensor for compatibility with virtually all process chemistries. This field proven, rigid mount, single electrode sensor provides high over-pressure capability and exceptional long-term stability. Its integral tensioned diaphragm provides low hysteresis, high resolution and repeatability. Its high-frequency electronics design is fully CE and RoHS compliant and yields extremely low noise, while maintaining the fast response times required for critical control applications, with external noise rejection, fast warm-up, environmental effect resistance, and quick return to zero capabilities that are unmatched in the industry. Occupying the same footprint as other industry manometers, the Model 730 may also be used as a seamless drop-in replacement in legacy applications where optimized performance is desired.
Model 730 is manufactured in-house at Setra Systems ISO9001 certified facility in Boxborough, Massachusetts, USA, where vertically integrated manufacturing processes allow for full product quality control, from component through to finished product.
With its unique performance characteristics, including excellent performance over temperature, the Setra Systems Model 730 vacuum manometer may be used within a wide array of applications, including semiconductor industry process chambers, load docks, wafer handlers and scrubbers; petrochemical process monitoring; pharmaceutical manufacturing and process monitoring; absorption chillers; vacuum packaging, distillation and freeze drying operations; autoclaves; and laser monitoring. Please note that global sale and promotion of this product is subject to International Traffic in Arms Regulations (ITAR), and as such, a license is required for all non-US shipments, with the product also potentially subject to other restrictions on its sale and use. Please consult factory for details.
For more information on the Model 730 vacuum manometer or other products available from Setra Systems, Inc., or to request a product sample, contact the company toll-free (in the U.S.) at 1-800-257-3872 or at +1- 978-263-1400, e-mail at sales@setra.com, or visit www.setra.com.

About Setra Systems
Setra Systems, Inc. is a designer, developer, and manufacturer of high accuracy electronic instruments that measures pressure, current, humidity/temperature, acceleration and weight, and very low-pressure and documenting calibrators. Setra Systems products are used in many process and manufacturing industries, federal agencies, and research laboratories.
---