Open Architecture Design- Simplifies Installation
Product Announcement from Spectron Glass and Electronics Inc.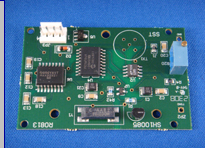 The SSY0135 RS232 Signal Conditioner is a Single Axis Conditioner, which delivers an RS232 output. Designed to utilize the entire line of SH Series Ceramic Tilt Sensors (not included), the SSY0135 is capable of supplying digital data over a +/-0.5 to +/-80 degrees full range (sensor dependent). The output can be easily interfaced to a PC using the serial port, or directly to a microcontroller. The open architecture design simplifies installation, allows easy access for gain adjustment, and makes this conditioner perfect for OEM applications. Other select Spectron sensors may also be used with the SSY0135.

Single Axis Signal Conditioners
SSY0135,Micro-50
Bi-polar input/output
RS232 output
Open architecture
Spectron Glass and Electronics Incorporated has been designing and manufacturing tilt sensor and inclinometer products for more than 60 years. Widely recognized as the industry leader, our tilt sensor products can be found in most of the free worlds' jet aircraft, and in various avionics, guidance and navigation systems. Other tilt sensor applications include geotechnical measurements, construction lasers, oceanographic, security systems and digital compass correction. Our inclinometer products serve numerous applications in the industrial marketplace such as crane safety systems, antenna positioning, jetways and platform leveling systems to name a few.
Products:
The SPECTROTILT™ and SPECTROTILT™ II Electronic Inclinometers from Spectron are fully signal conditioned tilt sensors. Sometimes called a clinometer or tilt monitor, these inclinometers incorporate a tilt sensor and conditioning electronics. The result is a fully signal conditioned and calibrated device ready for installation.
The SPECTROTILT™ Electronic Inclinometers are single axis devices, which have up to a +/-80 degree sensing range, rugged aluminum housing, and are available in analog, digital, RS232 and 4-20mA outputs. The SPECTROTILT™ II Dual Axis Electronic Inclinometers are available with sensing ranges as high as +/-60 degrees, ABS plastic housing (optional), and analog and RS232 outputs. The SPECTROTILT™ II Dual Axis Tilt Monitor combines the popular SP5000 Series Dual Axis Tilt Sensor, with integral signal conditioning and a NEMA IV rated enclosure, to bring high precision tilt monitor sensing to the harshest of environments.
Electrolytic tilt sensors are non-signal conditioned sensing elements. Spectron has four series of tilt sensors available, including single and dual axis versions. Our single axis electrolytic tilt sensors are available in full scale ranges from +/-0.25 degrees to +/-80 degrees, in both glass and ceramic construction. The RG and CG Series Electrolytic Tilt Sensor is designed for extremely high accuracy measurements over shallow angular ranges, and in dynamic conditions. The L-Series Electrolytic Tilt Sensor provides unparalleled accuracy for wider angle measurements. The SH50050 Ceramic Series Electrolytic Tilt Sensors provide a high accuracy/lower cost alternative for both shallow and wide angle measurements.
For dual axis measurements, the SP5000 and AU6000 Series Electrolytic Tilt Sensors afford price, performance, quality and exceptional reliability. Geared towards the OEM marketplace, these tilt sensors feature a PC board mountable design, no moving parts, and a symmetrical pin design which eliminates installation orientation concerns. For those seeking a complete tilt sensing solution, Spectron offers a full line of both single and dual axis signal conditioners, which are designed to interface perfectly with all of our electrolytic tilt sensors.
Signal conditioners from Spectron are DC operated electronic modules which provide the proper AC excitation voltage for the mating tilt sensor, and a DC, 4-20mA or RS232 output signal. Available in both single and dual axis configurations, these signal conditioners are the perfect complement to our full line of Electrolytic Tilt Sensors. Standard options include uni-polar/bi-polar DC operation, temperature and linearity compensation, and overload protection.
The TADII - Threshold Angle Detector from Spectron is a dual axis inclinometer that functions as an electronic tilt switch. By combining an electrolytic tilt sensor with custom electronics, this tilt switch actuates when the set threshold angle is reached, and resets after it is tilted back within predetermined limits. The TADII is ideal for replacing an antiquated mercury switch or mechanical ball-in-tube type tilt switch device with solid state/digital technology. In addition, unlike a mercury switch, the TADII contains no toxic ingredients.
Our knowledgeable technical staff is available to help you determine which tilt sensor or inclinometer product is right for you. Whether you need a tilt sensor to measure fractions of an arc second, or an inclinometer for wide angular range measurements, Spectron has the solution!
---