Signal Conditioner For Battery Driven Applications
Product Announcement from Spectron Glass and Electronics Inc.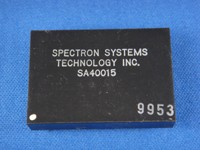 The SA40015 Dual Axis CMOS Signal Conditioning Module is a DC input/output operated device, which operates off a single ended supply, and provides a bipolar DC output.
Specifically designed to interface directly with the entire line of SP5000 Series Dual Axis Tilt Sensors, this low power consumption conditioner is ideal for battery driven applications.
Featuring a PC board mountable design, the module internally converts the DC input voltage into an AC excitation voltage for the sensor, and demodulates the sensor output into a smooth amplified DC output voltage. Incorporating a proprietary signal processing algorithm, and an external temperature compensation sensor (optional), normal measurement errors are severely reduced.
The SA40015 also features overload protection, and is 100% reliability tested to provide the highest quality available.
Signal conditioners from Spectron are DC operated electronic modules which provide the proper AC excitation voltage for the mating tilt sensor, and a DC, 4-20mA or RS232 output signal. Available in both single and dual axis configurations, these signal conditioners are the perfect complement to our full line of Electrolytic Tilt Sensors. Standard options include uni-polar/bi-polar DC operation, temperature and linearity compensation, and overload protection.
MUPI 2
MUPI 3
SA40012
SA40072
SSY0079
SSY0135,Micro-50
Dual Axis Signal Conditioners:
SA40011
SA40015
SA40111
Spectron Glass & Electronics Inc, currently located in Hauppauge, New York on Long Island, was founded in 1947 as Spectron Glass Laboratories.
Originally established as a neon sign manufacturer, the focus of the company rapidly changed direction. In 1948, under contract from the Sperry Gyroscope Co., Spectron started to build electrolytic tilt sensors.
Realizing the vast potential of the sensor market, Spectron discontinued the neon sign business, and dedicated itself exclusively to the development and manufacture of electrolytic tilt sensors.
Products:
---