Stafford Mounting Collars and Components
Product Announcement from Stafford Manufacturing Corp.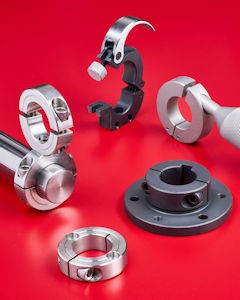 • Multiple mounting options include face, flange, flat and stackable.
• One- and two-piece styles as well as hinged.
• Bore sizes from 6mm to 10" ID.
• Special designs to customer specifications available.
Stafford Mounting Shaft Collars and Components feature various options for attaching items to a shaft, pipe, and tube.
The full standard line includes a variety of shaft collar designs and mounting options including face, flange, flat, and stackable as well as different fastening alternatives.

Sizes range from 6 mm to 10" I.D., depending upon the configuration, and they are available in steel, stainless steel, and aluminum.
Based upon one-piece, two-piece, and hinged shaft collars, Stafford Mounting Components include the Accu-Clamp™ feature for applications that require extreme squareness and flatness.

For adjustable clamping without tools, Staff-Lok™ collars are offered or a Grip & Go™ Quick Release Handle which replaces a clamp screw to allow rapid repositioning can be added.
Special design modifications to customer specification are available on quote.
---