PE Foam Tape for Permanent Bonding and Mounting
Product Announcement from tesa tape, inc.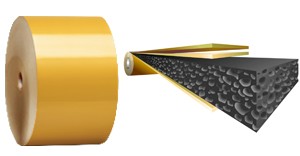 Company officials of tesa tape, inc., an affiliate of tesa SE, a global leader in the manufacture and supply of pressure-sensitive adhesive tapes, are pleased to announce an addition to the company's extensive line of double-sided tapes for permanent bonding and mounting applications.

tesa® double-sided tapes are well known for their exceptional quality and performance as bonding agents. With the introduction of tesa® 62939, that tradition continues!

tesa® 62939 is the newest member of the tesa® PE (polyethylene) foam tape family, which now includes eleven unique adhesive tapes ranging from 20 mils to 118 mils in thickness. tesa® 62939 now becomes the thickest double-sided tape in the tesa® closed-cell PE foam tape assortment, measuring 118 mils / 3000 µm. Equipped with a unique "tackified" acrylic adhesive system, tesa® 62939 offers exceptional tack and surface wetting capabilities.

tesa® 62939 is positioned as a general mounting and bonding tape in the tesa® PE foam tape assortment. The assortment includes tapes ideally suited for: 1) critical mounting at elevated temperatures, 2) critical mounting, and 3) general mounting. All tapes in the tesa® PE foam tape assortment can: compensate for irregular bonding surfaces, fill gaps, absorb shocks, provide thermal expansion compensation, seal against dust and moisture, and more.
About the Company
For over a century, tesa tape has pioneered the development of pressure-sensitive adhesive tape technologies. This rich tradition of innovation dates back to 1882 when the company's founder patented a method for manufacturing medical adhesive dressings. With this invention came the beginning of a global enterprise dedicated to the development and promotion of advanced adhesive tape solutions. Today, this worldwide enterprise services customers in over 100 countries around the globe and holds numerous product patents. In North America, tesa markets many diverse product lines including double-sided fastening tapes, masking tapes and associated products, packaging tapes, duct and cloth tapes, and many specialty tape products. At tesa, it is our charter to provide our customers with service levels and applications expertise that are second to none in the industry. With this as our goal, we stand committed to providing you with adhesive tape solutions beyond the roll!
---