About
ABB JOKAB SAFETY is now offering its products and services as part of the Low Voltage Products Division of ABB Inc., and this gives ABB JOKAB SAFETY additional worldwide support, plus a sales and service network in 120 countries. Our goal is to become the best single source supplier of machine safety components and systems in the world and provide unsurpassed support to our customers throughout North America.
Since its inception in 1988, ABB JOKAB SAFETY has been ad­hering to the business concept of developing innovative products and solutions exclusively for the application of machine safety. The company has supplied everything from individual safety components, to fully installed protection systems for entire production lines, and works on a daily basis with the practical applica­tion of safety requirements in combination with produc­tion requirements. ABB JOKAB SAFETY is also represented on a variety of international safety standards committees concerned with the safety of machinery, which means that we have now added this very valuable experience and knowledge to our offering. Similarly, ABB Inc. has always been a pioneer and a representative for its business areas and a power­ful voice in professional organizations and committees throughout the world. All in all, this creates an enormous bank of knowledge and experience that we look forward to sharing with our customers.
The fact that the leading power and automation technol­ogy company, ABB, and a leader in machine safety, JOKAB SAFETY, have joined forces means a lot more than just a new organizational chart. ABB has a huge footprint in indus­try - from power supply to the control of each individual mo­tor - and has been delivering reliable solutions for decades that boost productivity. The formation of ABB JOKAB SAFETY now means that an additional building block is in place. ABB JOKAB SAFETY can now offer our customers tailored, turnkey solutions where machine safety is an integral and value-enhancing component of their manufacturing processes.
Productivity and safety are not contradictory terms. On the contrary, ABB JOKAB SAFETY knows that machine safety solutions that are properly executed and adapted from the beginning will increase productivity and profitability. A partner like ABB JOKAB SAFETY can deliver integrated and well thought out turnkey solutions that will enable a production-friendly safety en­vironment that will protect personnel and expensive equipment. By engineering and designing custom safety solutions or upgrading current safety systems in existing environments in a smart way, the mode of pro­duction will not need to be adapted to meet the require­ments that safety sets. Instead, this allows a system that is manufacturing-friendly and that takes into account the business and its productivity objectives.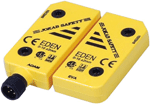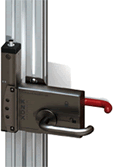 About ABB
ABB (www.abb.com) is a leader in power and automation technologies that enable utility and industry customers to improve performance while lowering environmental impact. The ABB Group of companies operates in around 100 countries and employs about 130,000 people.
About ABB Low Voltage Products
ABB Jokab Safety is a business unit of the ABB Low Voltage Products (LVP) division. ABB LVP manufactures low-voltage circuit breakers, switches, control products, wiring accessories, enclosures and cable systems to protect people, installations and electronic equipment from electrical overload, and complete machine safety systems and controls.
Supplier Directory Categories
ABB JOKAB SAFETY is also listed in these categories:
Technical Articles

Cooper Tire gets a Better Grip...
(Safety Sensors and Switches)
The Cooper Tire and Rubber Company Europe Limited, the manufacturer of Avon brand tires and recognized as a world leader in the pneumatic tire market, has begun updating machine safety systems with... (
View Full Article
)