About

AMPlast Corporation is a professional chemical engineering company specializing in the design, manufacture and installation of wet scrubbers, biofilters, activated carbon adsorption systems, and the treatment of corrosive, harmful and odorous gas emissions.
AMPlast is committed to providing corrosion resistant products, utilizing thermoplastics from leading manufacturers, and has many years of experience meeting and implementing tough air regulations. Their systems and equipment designs, including controls, are done in-house at their suburban Chicago office. Their 15+ years of experience assures you of receiving the best process equipment solution based on their innovation and well thought out engineering designs.
AMPlast designs and manufactures a wide variety of plastic fans. By using various types of plastic materials, they are able to offer the highest corrosion resistance products needed based on the type of gas to be treated. Their systems are built in their Midwest workshops, or in one of their manufacturing sites around the world.
AMPlast offers a full range of field and technical support services, including turnkey field construction. Their systems are designed for long life and low cost efficient consumption of utilities. They provide full warranty on all equipment and workmanship of items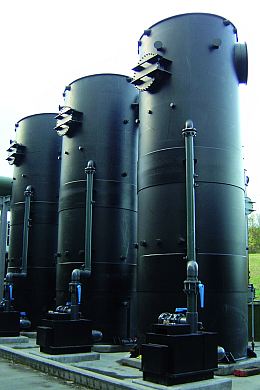 supplied, and warrant efficient process operation, without time limits, when properly maintained and operated.
All AMPlast equipment is built using American parts and suppliers, making it easy to locate spare parts for years to come.
AMPlast, with its 20 engineers and support personnel, serves clients in Canada and the Americas from their office in Lisle, Illinois. They are part of the Europe Environment Group (EE), which employs 225 people and has manufacturing sites in four countries.
EE clients are in diverse industries like:
Chemical Industry
Aerospace Industry
Electronic and Solar Industry
Metal Processing and Surfacing Industry
Wastewater Treatment Plants for Odor Control
Waste Management Plants for Odor Control
Food and Animal Processing Industry
AMPlast has many repeat orders from obviously satisfied clients that are testimony to EE's achievements, including companies such as: Alcatel, Airbus, Motorola, Rolls Royce, Bosch, SPF, Veolia Group, Rohm and Haas and IBM.
Supplier Directory Categories
AMPlast Corporation is listed in these categories: