About

Airtest Technologies Inc is a manufacturer and distributor of air monitoring technologies that ensure the comfort, security, health and energy efficiency of buildings.

Drawing on innovations originating from the medical, electronics, telecommunication and automotive field, Airtest offers a growing portfolio of sensor products that meet the unique needs of the "buildings" industry along with application tools and cutting edge communication technologies that will ensure the easy and cost effective migration of these technologies to all buildings.



Airtest serves the North American market from its headquarters in Delta BC and sales offices in Seattle, Washington and Santa Barbara, California. Airtest is a public company that trades under the symbol AAT on the TSX Venture Exchange.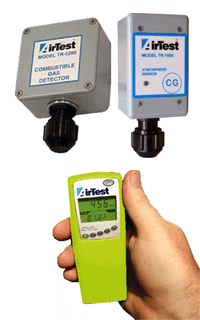 Until recently sensing and control in the buildings market was primarily focused on temperature control and brute force air movement. Now concerns about energy usage, operating efficiency, liability and the need for a healthy and productive building environment are creating an opportunity for a new class of building sensor technologies. This is the Airtest sweet spot. Airtest's value is their understanding of these markets and their ability to provide the most appropriate and cost effective technology for building owners and contractors. They also provide a wide range of sales tools to help their customers sell the value proposition of their products when integrated into the systems they sell and install.
Airtest also understands where the market is going and can offer the latest innovations in their products that reduce installation costs and create competitive advantage for their customers. These innovations include wireless and digital based communication (LonWorks®, RS485, MODBus® and soon BACnet®). Airtest is constantly innovating with their technology partners.
Airtest's product portfolio includes over 300 sensor products that can be configured to work with any monitoring or building control system. All these product categories are critical in reducing energy use and optimizing the operational efficiency of buildings.
Airtest's Major Product Categories Include:
Ventilation Control In Buildings: Airtest offers a family of infrared gas sensors for CO2 based ventilation control that can significantly reduce energy usage and optimize air quality in buildings.
Humidity and Moisture Control: Their offering includes the best-of-class humidity and dew point sensors to prevent mold problems, to better control comfort, and to ensure optimized conditions in commercial and industrial environments.
Parking Ventilation Control: Gas sensors targeted to control ventilation in parking facilities and other enclosed spaces where vehicles are operated. Airtest sensors and controls offer significant energy savings and assurance of a safe environment.
Air Velocity Measurement: Airtest offers a family of innovative heated-thin-film air velocity transmitters and switches used to monitor airflow or validate equipment operation.
Refrigerant Gas Leak Detection: Refrigerant gas sensors that can quickly identify costly and dangerous leaks in air conditioning and refrigeration equipment.
Health And Safety: Airtest offers a broad range of gas sensors for health.

Supplier Directory Categories
Airtest Technologies, Inc. is listed in these categories:
Technical Articles


CO2 Control In School Classrooms
(Gas Sensing)
There are four primary reasons to consider using CO2 sensors in school classrooms. 1. Student Health Considerations CO2 monitoring can ensure that acceptable levels of ventilation for the health and... (
View Full Article
)