About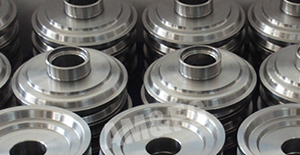 All Metals & Forge Group, LLC is an ISO 9001:2008 and AS/EN9100:2009C manufacturer of forged steel, open die forgings and seamless rolled rings, a certification it obtained and has held since 1994. AM&FG was one of the first companies in its industry to obtain an ISO certificate of registration since the company's founding in 1972. AM&FG maintains one of the most stringent quality processes and standards in the industry to ensure that our customers receive the finest forged material with the tightest tolerances in exactly the condition that best suits their finish machining needs.
Product Summary
Metal Families and Alloys: All Metals & Forge Group works with alloy steel, carbon steel, stainless steel, titanium, aluminum, tool steel, nickel alloys and cooper alloys and produces forgings to ASTM, AMS, AISI, Boeing, GE, DIN or other industry-recognized specifications. The customer declares their desired specification in their initial request for quotation so that price and delivery includes the proper chemical, physical and testing requirements. All Metals & Forge Group's Forging Capabilities includes seamless rolled rings up to 109" / 2768 mm OD and forged product weights up to 80,000 pounds depending upon the material selected.

Forged Shapes
All Metals & Forge Group forges small to large round, flat or hex bars, forged shafts, forged step shafts, seamless rolled rings, contoured rings, conical shaped forgings, forged discs, forged blocks, forged plates, forged cylinders and blind-end cylinders, forged and bored heavy wall hallow bar and forged flanges produced to AS ME B 16.5, ASME B16.47 or API 6A specification standards.
Industries Served
Open die forged shapes produced by All Metals & Forge Group are used in a wide variety of industries including oil and gas exploration, gear manufacturing, aircraft and aerospace, energy and power generation, defense, automotive, heavy industrial, manufacturing, general metalworking, petroleum and chemical, mining, engine and turbine, ship building, construction, fabricated metal, pulp and paper, and food. We even produce forgings for other forge shops both domestically and internationally.

All Metals & Forge Group can help you win jobs be responding to a rush quote in less than 24 hours and even complex requests for price and delivery quotations are responded to within 48 hours. When your order is placed with All Metals & Forge Group, our goal is to deliver it on time in a shape and condition that minimizes machining time, lowers cost and reduces material waste.
View our Forging Capabilities Video.

The Voice of Manufacturing - Globally
A live, weekly program featuring industry insiders and experts discussing breaking news, trends and forecasts in manufacturing.

Supplier Directory Categories
All Metals & Forge Group, LLC is also listed in these categories:
Technical Articles