About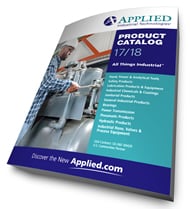 Applied Industrial Technologies (NYSE: AIT) is one of North America's largest industrial distributors of bearings, power transmission components, hydraulic components and systems, pneumatic components and systems, hose & fluid connectors, linear components, tools, safety products, general industrial and a variety of material handling products. They also provide customized mechanical, fabricated rubber and fluid power shop services, as well as services to meet storeroom management and maintenance training needs.
Applied® is a vital link between a full scope of suppliers' capabilities and a broad range of customers' needs. They excel in the areas of product selection and application, system-wide logistics and engineered systems.
Applied understands that partnering with the right industrial distributor is critical to your bottom line. Applied works closely with their customers to understand their needs and processes, and they use that knowledge to provide custom-fit products and services.
INNOVATION
As a cutting-edge industrial distributor, Applied Industrial Technologies has more than just the critical products and parts needed to minimize downtime and improve operations. Applied® provides added value through innovative solutions and knowledgeable recommendations, creating customer success.
EXPERTISE
More than just order takers, Applied Industrial Technologies' expert sales force has the industry knowledge to help solve the most difficult problems.
SUPPORT
The Applied® network of approximately 500 locations, 5,000 employee-associates, nine distribution centers, and more than 40 specialty repair and rebuild shops ensures that the products and support you need are always close by. Applied® has locations throughout the U.S., Puerto Rico, Mexico, Canada, Australia and New Zealand.
And while they may be national, their thinking is local, with knowledge of local markets and local companies. They are a familiar face in hometowns just like yours, supporting the communities in which you live.
Supplier Directory Categories
Applied Industrial Technologies is also listed in these categories:
Technical Articles

Lubricant Failure = Bearing Failure
(Bearings and Bushings)
Bearings rarely wear out, yet they do fail. Careful analysis of bearing condition and failure modes can provide insight into the causes of failure and how to correct them. In most cases, lubrication... (
View Full Article
)

Replacing Your DC Motors? Think AC
(Motors)
Alternating-current (AC) and direct-current (DC) motors have traditionally served distinctly different applications due to their construction and inherent operating characteristics. In general, AC... (
View Full Article
)