About
Cambridge Technology: The Market and Technology Leader in Optical Scanning Solutions
Cambridge Technology, Inc. is the industry leader in the design and manufacture of closed-loop galvanometer-based optical scanners. Their broad range of scanning solutions includes the fastest, the most accurate, the smallest, the largest, and the most reliable closed loop galvanometers available worldwide. They develop and supply products for many industries including laser marking and engraving, drilling and welding, biomedical systems, laser imaging, microscopy, OCT, dermatology, and laser projection, and any other application where fast, accurate cost-effective beam steering is needed.




Full range of Scan Head Components

Cambridge Technology Inc. has a full complement of scan head components to use with your galvanometers including open-frame mounting blocks, servo-driver amplifiers (both analog and high-speed digital), and Ethernet-based and USB-2 based scanning system controllers.

A Legacy and Pledge of Innovation, Quality, On-Time Delivery, and Support
Through their continuing commitment to research and innovation they've developed key patented advances in the technology of galvanometer position detection and actuator designs. These innovations have made it possible for them to introduce products that have cost-effectively raised the bar for accuracy, speed, performance and reliability in scientific and OEM optical scanning solutions. Their engineers work side by side with their customer base to develop product configurations that are easy to use and integrate seamlessly into their specific applications. Their broad range of supporting products, commitment to customer service and continuous product research deliver the guarantee of quality, innovation and trust that their customers have come to expect from Cambridge Technology.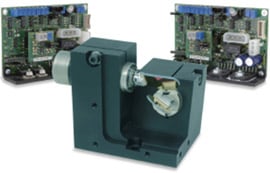 The Market Leader
From the first Cambridge Technology product offering - all the way up to their current product line - their commitment to these standards has made them the world market leader in galvanometer technology. They pride themselves in keeping the values that they were built on - values that have allowed them to make their customers successful time and time again.
Mass Customization for a Broad Range of Industries
Cambridge Technology serves a wide variety of market and customer applications, many requiring unique adjustments or configurations. Their manufacturing environment has been designed to provide individual customer configurations on a mass-production scale through the use of their quality management system, automatic test and data logging, rigorously controlled manufacturing procedures, and a highly skilled and stable workforce to ensure their customers receive exactly what they want – on time and with no surprises.
Supplier Directory Categories
Technical Articles